Lounge Seating
Five-person hot tubs are the life of the party. These spacious tubs offer plenty of room for five adults to comfortably indulge in the stress-melting massage options and the tension-reducing Jacuzzi® jets.
The 5-person hot tub collection features muscle-targeting jets, LED lighting, and cascading waterfalls to set the relaxing ambience for your social get together.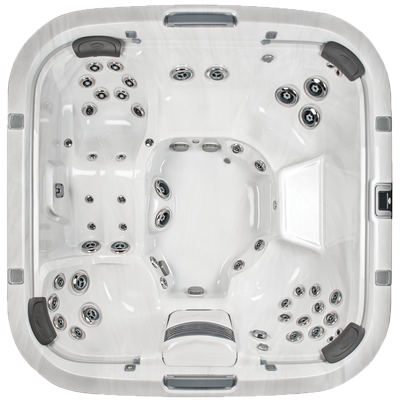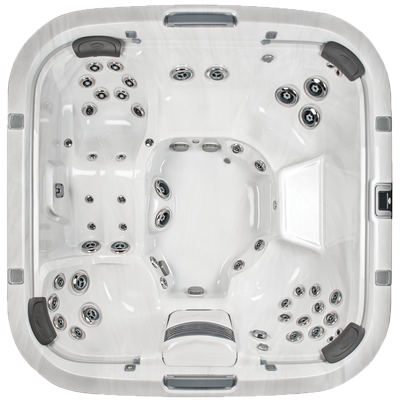 J-575™
Luxury Lounge Seating Centerpiece
With room for 5-6 adults, the breathtaking J-575™ Hot Tub also features a therapeutic lounge seat for full-body relaxation Boasts a new PowerPro® FX Directional Jet designed to relieve tension and improve circulation in the hips. Highlights a designer woven exterior and architectural corner lighting outside, and dual ProEdge™ Waterfalls and interior illumination inside.
J-LX™
Energy-efficient with Open Seating
The Jacuzzi® J-LX® hot tub combines comfort and modern style for six to seven adults while minimizing energy costs Top-of-the-line PowerPro® Jets, including four bold RX Jets, combine performance with comfortable seating without compromising hydromassage power. The modern, streamlined design combined with LED lighting on the perimeter, underwater and in the back and neck waterfall all combine to exceed California Energy Efficiency standards.
J-480™
Large Designer with Lounge Seat
With room for six adults, the Jacuzzi® J-480™ model epitomizes luxury with a sleek, modern design. The Jacuzzi® J-480™ spa boasts premium PowerPro® Jets, which provide a total-body massage including six RX Jets, an illuminated IX Jet in the foot dome and small but mighty PX Jets for your wrists in the lounge seat. This hot tub model also features plenty of LED accents from the feel-good dual waterfalls to the logo light, pillows and cup holders.
J-375™
Comfort with Largest Lounge Seat
The Jacuzzi® J-375™ Hot Tub offers room for up to six adults. The tension-reducing PowerPro® Therapy Seat, lounge seating and superior PowerPro® Jets, including 18 FX Jets, provide a hydrotherapy haven for your mind and body. Enjoy the calming effect of the Water Rainbow® waterfall, illuminated cup holders and LED lighting throughout.
J-355™
Comfort Lounge Seating and Cool Down Seat
The Jacuzzi® J-355™ Hot Tub offers lounge seating and room for up to six adults. This roomy spa delivers a deep-tissue, full-body massage with superior PowerPro® Jets, including the ProAir Lounge seat, the FX-10™ Therapy Seat and 14 FX Jets Set the ambiance with the waterfall and LED ProLites in the footwell, pillows and illuminated cup holders whether enjoying a solo soak or inviting friends to join you.
J-345™
Comfort with Open Seating
The Jacuzzi® J-345™ model boasts open seating with room for five to six adults. This spa comes equipped with superior PowerPro® Jets, including 19 bold FX Jets, and a jetted foot dome to provide you with hydromassage at its finest. Enjoy the comfort of the contoured seats with pillow headrests as the waterfall and LED lights boost your state of relaxation.
J-275™
Classic Large with Lounge Seat
When you're in search of an affordable yet inviting hot tub that seats up to six adults, look no further than the Jacuzzi® J-275™. This model features powerful Classic Jets, boasting six robust Rotational Jets and lounge seating With enough room to comfortably relax and rejuvenate, interior lighting and a soothing waterfall help to create the ultimate oasis within your price range.
J-235™
Classic with Lounge Seat
This affordable and efficient hot tub comfortably sits six adults The Jacuzzi® J-235™, delivers high performance hydrotherapy without breaking the bank with versatile Classic Jets, including four Rotational Jets and lounge seating Features a waterfall and LED lighting to soothe and relax your mind and body.